Check before turbocharger installation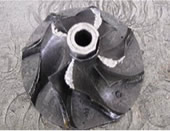 Please check the oil drain pipe/inlet pipe for any filling, dirt, destruction, foreign objects or adhension of carbon. Please exchange it if necessary. (Please exchange both pipes and union bolts together)
Inspect air cleaner, housing, intake and exhaust piping for foreign objects such as loose bolts, nuts, cloths etc.