News & Announcements
TTS Technical Center(T-Tec)
T-tec is the facility for the customer who would like to learn about turbocharger more. They are also able to get more information about it through the plant tour.

Exhibition room has various kinds of sample turbocharger for customer. Customers can acquire the knowledge.

Training room: Learning center for turbocharger. We have some learing tools; DVDs and sample turbochargers

The lounge; It locate next door of training center and visitor can enjoy the beautiful garden and give you the moment of relaxing.
TTS Web system
Get new information on time!!
We deliver the turbocharger from 4 shipping bases using web system and network. All turbochargers by TTS has serial number. We can track the detail information for turbochargers; date of production, parts information, and balancing data.
Delivery system of TTS
Delivery from 5 shipping bases, items will arrive next day anywhere in Japan
There are 5 shipping bases; Sapporo, Saitama, Osaka, Fukuoka, and Okinawa with stock. It is possible to deliver items to customer next day everywhere in Japan from our stocks by using web system.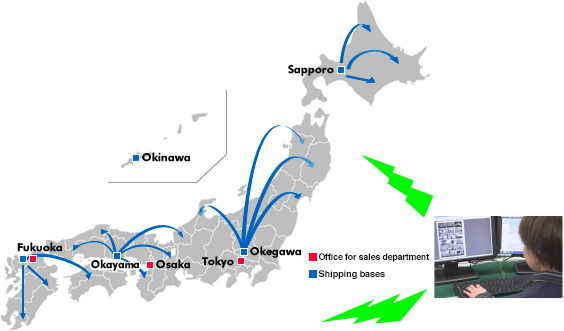 Information support from products

TTS do not only sell the turbochargers, but also provide the information to customer. We can get the information from return cores and provide the information: Cause of troubles and prevent to recurrent caused by lack of maintainance.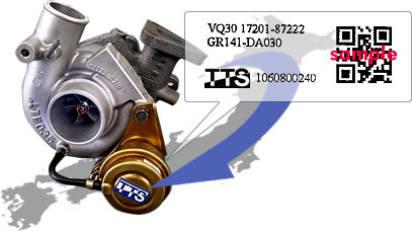 The serial number for the product link with customer's vehicle information. It is possible to check the information by reading the code.
Providing the information from TTS
1.Placing the order from customer
Sending the notes for common failure of turbocharger and advice for prevent to recurrent by Fax.

2. Returning cores from customer
For large turbochargers, we asked customer to check the condition if there is possibilities to occur the failure again. We also keep the record the reason for failure and inform the customer in case we need to.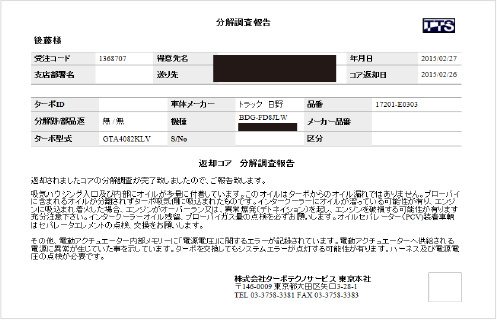 3. When problem has occurred
We will send our inspection report with detail photos to our customer to explain why does the problem happen and advise the solution.
We have serial no. for all turbochargers. We are able to get the detail information from it; what kind of parts are used and data for balance.
Put the installation note with the shipment.
We put the note for check list of surrounding device and confirmation of pre-installation. We also send the conditions of warranty with products.